My last perfume review on this blog was seven years ago, so a post like this is overdue. At the same time, fragrances are so subjective and what smells amazing on one person could smell terrible on someone else due to all of our unique body chemistries, so that is why I tend to not discuss or recommend fragrances. Even the length of time it lasts can be different. However, it has been so long since I've attempted it and I've purchased so many discovery sets with samplers that I decided to just go for it and discuss my newest ones here today.
My favorite perfumes are gourmands (desserts and fruits in particular). I don't mind a few spicy notes, along with tobacco. I tend to not like green and clean scents, nor florals unless it's gardenia and I don't mind jasmine. Also, patchouli smells terrible on my skin. Every time I've hated a fragrance, not just disliked it, it turned out there was patchouli in it. So, I actively avoid buying anything with that note. Of course, it can't be avoided if it's in one of the fragrances in a sampler.
As a final disclaimer, I have to add that an uncommonly high percentage of the time I've sprayed a perfume in the air, it smells great, but that same one sprayed directly on my skin doesn't have the same effect. So, most of the time when I wear fragrances, I spray them on my clothes rather than my skin. For review purposes, I have tested all of these multiple times and on my clothes as well as body for all day wear tests, unless stated otherwise. I began testing prior to April 2022, so this has been quite the task to complete.
Ellis Brooklyn Scent Diary Fragrance Discovery Set
MYTH – In the first five hours, this perfume is so lovely! I can smell that bit of bergamot in the beginning with that delicious cassis with a general floral background. Cassis and other currants and berries are my favorite in jams, so it triggers a very positive emotion out of me when I wear this. I can never pinpoint an exact moment when it happens, but at some point it changes from a black currant smell to sweet florals. It's not sugary sweet, but a nectar type of sweet. The listed mid notes are Tiger Orchid, Pink Lotus, and Jasmine Petals which my nose just registers them as a pleasant floral smell. Additional notes are Patchouli (which I usually hate), Liquid Musks, and White Cedarwood, but all I can detect is floral and maybe a little musk when it goes past five hours. I wish this fragrance remained stronger for longer, because although it lasts about seven hours on the skin, it doesn't smell as special in those last hours. I do like this overall. I'm not sure if I will try and purchase a travel size in the future, but I've considered it.
SALT – This perfume is the most difficult for me to pick out notes from. The initial spritz smells fresh, but in five minutes until about an hour it reminds me of soap. Like, it vaguely smells like Irish Spring Bar Soap. The ylang ylang and Violet Leaves Absolute top notes are completely lost on me. For the remaining eight hours that this lasts on my skin, the smell loses that soapy aspect and reminds me instead of green florals and damp wood on a pier. I don't think that's the most flattering description, but that's what it evokes.
It's like wood that has stayed wet too long and isn't quite moldy but takes on a bit of an earthy, algae, and salty quality to it, but with a nondescript floral around to freshen it up. It's like the Tahitian Tiare and Magnolia Dianica mid notes, along with the Musk, Vegan Ambergris, and Sandalwood meld together, so I can't really pick them apart. The smell is very much prominent in the first few hours, which isn't fun for me because I don't want to smell like this, but as long lasting as it is, it does mellows out.
SWEET – After trying several pear scented fragrances, I've decided that pear is just "okay" out of all the possible fruits. In the initial spray, I do get that pear scent, but the sweetness of the ambrette comes through and it just reminds me of vanilla and fruit desserts like ambrosia. Smelling this made me instantly smile! I've made it quite clear that gourmand fragrances are my favorite, so it's no surprise that Sweet ended up being a favorite.
I didn't know I like the smell of violets until I started buying Guerlain products. Violet is one of the mid notes, and I can smell it, but I mostly still just smell like a dessert, which I really like. I know some people add candied/sugared violets to desserts, so it still follows along that theme. There's also heliotrope and orris, but I have no idea what those notes smell like. Because marshmallow is the main base note, I continue to smell like a dessert, specifically a lightly toasted marshmallow when the florals fade. The cozy notes of amber and cashmere are ones I cannot smell, but perhaps they account for the warm but not smokey aspect of that marshmallow scent. The perfume begins to fade after 7-8 hours. This perfume is one I would like to get in the full-size, but considering I can't ever get through my perfumes in time before they turn, it's something I could see myself purchasing repeatedly in the travel size.
SCI FI – In the first few minutes, I get the exhilarating orange scent, but that quickly transitions to a sweet floral from the pink freesia. Green tea is a mid note, but I can only smell that when spritzed on my wrist. In the crook of my elbow, that tea scent never comes through and I just get sweet floral that's warm almost spicy, especially when the fragrance moves onto the final stage where the cashmere woods and vanilla beans play a factor. I'm not sure what accounts for that slight spicy element though, but this is definitely a warm gourmand slightly floral scent. Sci Fi is closer to the realm of the kind of perfumes I typically go for, but what I consider to be "safe." My favorites tend to be like this one but with some kind of slightly unusual twist, which this lacks. There's still a place for something like this in my collection, so I could see myself one day buying a small travel size sprayer for occasional usage, but it's not special enough that I would ever get it in the full size. The scent wafts off of me enough for those very close to me to smell, but certainly won't fill a room. I can get a solid seven hours of wear with this perfume.
WEST – At first I smell a general citrus scent mixed with water lily, but after a few minutes the water lily completely dominates it. I can't specifically smell the blood orange, clementine, nor lemon. They're jumbled together. For 10-15 minutes, I smell green, bordering on floral, but there's also an aquatic element. It reminds me of a pond with grass reeds and flowers, which I guess makes sense. I have to show a photo as an example of the scent and feeling it evokes.
After those fifteen minutes, I'm hit with the basil and oh my goodness I hate it! That green, herbal, fresh scent is too much for my liking. The water lily is still present, but it's not enough to compensate for the way it smells on my body. Unfortunately for me, this happens to be one of the few potent scents of the bunch and wafts strongly off me. Within the first hour, I still get water lily notes with a touch of ginger on my wrists, but it's herbaceous all the way if I spray it in the crook of my elbow. Because of this discrepancy, I'm guessing this is an issue between the perfume and my body chemistry. It's possible I could enjoy it more if I just spray it on my clothes only, but honestly I didn't like this enough to want to even bother trying. With the remainder of the notes being vetiver, amber, and oakmoss, the fresh green scent is one I cannot escape for the rest of the day. After nine hours I could still smell it on me, so I removed it. It could have lasted longer, but as I despise this one, I wasn't about to test it beyond that.
BEE – A typical perfume would have top notes moving into heart notes and finishing with the base notes. With this fragrance, it doesn't quite follow that order for me and I can smell them all at once. Initially, despite honey being a mid note, I smell a burst of honey, a touch of spice from the cinnamon, and rum. Then I lose the distinct honey smell in the first ten minutes and it becomes more of a general sweetness with the rum along with that dash of spiciness. After about 30-45 minutes, how I smell triggers the memory of the time I baked a rum cake using Diplomatico Reserva Exclusiva rum which I bought specifically for the reported chocolate flavor it was supposed to have.
Of course, it didn't have a true chocolate taste that I, a person who doesn't dabble a ton in alcohol, expected. That's why Bee reminds me so much of that rum cake. For several hours, I smell like sweet not-quite-chocolate rum. It's not until about four hours that it finally smells like vanilla and cacao. The sandalwood note that's present is barely detectable. I really like the finish of this perfume, but it takes so long to get there. Essentially the beginning and end are great, but the middle of the experience is just okay. The amount of sillage is perfect for me and I get a minimum of seven hours of wear.
APRÈS – I like the smell of evergreens, but not necessarily on my body, so I wasn't sure how much I would enjoy the juniper berry scent, but it continues to grow on me with each use. There's supposed to be saffron and cardamom in the top notes, but I can't smell them individually as the juniper berry overpowers them. For the first fifteen minutes, I smell like slightly sweet pine with a touch of spice. From fifteen minutes onward in those first few hours, that sweetness really develops. I'm guessing that comes largely from the praline note. It's sweet, a little warm, and a little woody. In the remainder of the time that I wear the perfume, it stays mainly woody but I swear I can still smell a bit of sweetness, spice, and smokiness. I don't have any other fragrance in my collection like it. It's the kind of scent I personally enjoy smelling and would wear it while by myself, but I wouldn't want to wear it in public because it's a masculine forward unisex scent, and I prefer wearing traditionally feminine or feminine forward unisex scents while out and about. This fragrance gave me more sillage in the beginning, but it doesn't last as long on me as some of the others. I can only get about six hours out of it.
SUPER AMBER – From the very beginning, I can smell the amber and a touch of vanilla, but not the sweet kind. I wear so many gourmand fragrances that I forgot vanilla doesn't always lean that way. This is more of a floral vanilla. After some time, perhaps 30-60 minutes, the cedar kicks in and from then onward the scent stays the same on my skin for the rest of the day. There is supposed to be musk in this as well, but all I really pick up are those three notes. I like that this perfume has a consistent smell, but I do wish it leaned a little sweeter in its warmth rather than being at the brink of woodsy, just to be closer to my personal preferences. This isn't the kind of perfume that leaves a trail. I can only smell it on myself if I put my nose close to it, but it does last a good nine hours. I don't want too much of sillage, and would be happy if only people directly next to me could smell me, but this one doesn't give quite enough.
SUN FRUIT – After a few minutes when the fragrance settles into my skin, I smell just like Nonni's Fig Biscottis, including the white icing smell. This makes sense since the notes include fig and vanilla.
At about an hour is when the florals start to dominate. At that point I can detect the jasmine and a bit of a citrus blossom note. I can still smell it for six hours and by nine it's definitely undetectable by anyone but me. I didn't care for the heart notes while they were stronger but as time went on and the florals mellowed out as it moved into the base notes, I started to like the scent again. The main selling point for me though is the initial spray, but since that doesn't last, this isn't the kind of perfume I would purchase in the full size.
Sweet, Après, and Myth are my three favorites from this Ellis Brooklyn selection. I have to applaud the brand for the fact that there is patchouli in some of them, which usually even a small amount ruins the entire perfume for me, but I don't even notice them in these fragrances! I don't mind the smell in the air but it usually smells awful on my skin! That has been a nice surprise. I'm very happy I decided to make this purchase!
KILIAN Paris Mini Travel Spray Sampler Set
Good Girl Gone Bad – This is very much a floral perfume, but not in the way that I normally dislike. I would call it a "Fruity Floral" smell, which has a natural sweetness with a combination of flowers that smell youthful and not old fashioned. The listed notes are apricot-tinged osmanthus absolute, orange blossom, and may rose, tuberose absolute, jasmine, and narcissus. Two spritzes is enough for a strong application that wafts off me for about three hours. At almost 4 hours is when I have to get closer to still smell it on me. So, I can get about 5-6 hours of wear. It's a decent perfume, but nothing that really excites me.
Straight To Heaven – According to Sephora, "a burning splash of rich dark rum defines the opening," which is true. I smelled that easily, along with a slight cocoa scent, plus something else that I don't like and I can only assume was patchouli. However, as it started to settle after the first five minutes, the cedar smell dominated along with a spicy note. I thought I detected another wood note, but it wasn't until I read the description that I was able to identify that as the sandalwood. Then, after the patchouli and my skin had enough time to mingle, I really started to become aware of it. For the rest of the day, I smelled woody with a touch of spice, some musk, and something unpleasant. Spraying this on my clothes could possibly help, but I didn't attempt it with this one. Because I predominately get a wood profile from this, it's not something I want to wear again. The notes collectively mentioned on Kilian, Sephora, and Fragrantica's websites are: rum, vanilla, dried fruit, cedar, sandalwood, coffee, cacao, cognac, whisky, patchouli, vetiver, nutmeg, musk, jasmine, and amber. Straight to Heaven fades significantly within four hours and by the fifth hour I can't smell it on my skin anymore. Unsurprisingly, I don't plan to wear this again.
Love, Don't Be Shy – Britt Clarke raves about Kilian fragrances so much that she's the main reason I bought this sampler. This one in particular, along with Good Girl Gone Bad, I've heard her talk about the most. The first time I wore it, I believe it was nice at first, but it left zero impression on me afterwards. I didn't even remember I had it on until I was in the shower that night having completely forgotten to keep track of the changes to it throughout the day. I was already mid-scrub at that point, so there was nothing I could do and that wear test day was wasted. I couldn't even recall a single note.
The next time I wore it, I could see why I forgot about it. This perfume doesn't just lack sillage. I usually spritz myself twice, but I had to double it to smell anything, and it was still weak! In that initial spritz, I smell vaguely sweet, floral, and powdery. After five minutes, the coriander dominates giving spiciness with a little floral, but that spiciness translates more on the smoky side for some reason. Within this time frame as it mingles with my skin, the strength of the perfume grows, but peak strength is just within that first hour. Around 45 minutes is when I notice the smoky element lessens, but spicy and slightly floral is still the main scent I get. It remains at the peak strength for about two hours before it starts to get weaker. It isn't until that fading time that it starts to get sweeter. After 3-4 hours it significantly fades, and some point between 4-5 hours, I smell about as strongly as a body lotion at midday. If I put my nose right up to my skin, I can smell something sweet, but if I smelled that on anyone else, I would have thought it was the person's body wash. It lingers that faintly.
According to the Fragrantica website, the top notes are neroli, bergamot, pink pepper, and coriander. The middle notes are orange blossom, jasmine, honeysuckle, rose, and iris. The base notes are sugar, vanilla, caramel, musk, civet, and labdanum. I don't get any citrus notes when this is worn on my body. I can only smell the neroli and bergamot on my clothes.
With this fragrance, no matter how much I spray, it doesn't last on me. Nothing is distinct enough for me to be able to identify the specific notes other than the ones I've already mentioned I could smell. Many people say this smells like marshmallows, but when it gets sweeter, that doesn't even come to mind. I haven't seen or heard anyone else have longevity issues like this, so either this sample is off or I have a very unique relationship with this perfume. I find myself saying, "Love, don't be shy. Make your presence known. Don't disappear so fast."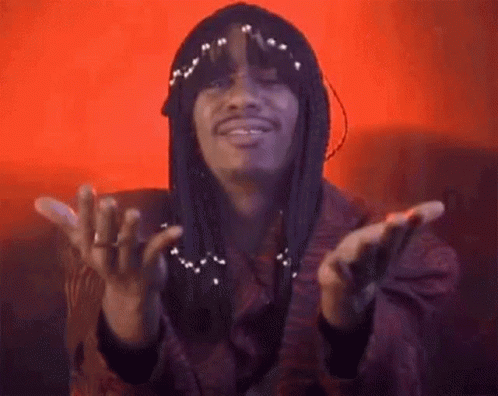 Because it's not memorable to me, I would never attempt to buy even a travel size.
*UPDATE MAY 31, 2023 – I received a sample of this perfume again and this time the experience was much different! I could instantly smell the Neroli and a powdery sweetness. As time goes on, the florals mellow out, but the sweetness increases with a touch of spice. There was no smokiness at all. It's still not a long lasting perfume on me (5-6 hours), but it had better sillage and made a much stronger impression in the initial three hours. I can only guess that the discovery sampler I got had some vials that were starting to turn. I still wouldn't purchase it because of the length of time it lasts, but I have a much higher impression of it now.
Black Phantom – "Memento Mori" The notes in this are, "Dark Chocolate, Rum, Caramel, Coffee, Sugar Cane, Almond, Sandalwood, and Heliotrope." This is the kind of scent I consider "sexy" from that rum and chocolate smell I get right from the start, along with a bit of sandalwood once it has time to really sink into my skin. I actually prefer the way this smells on my body over how it smells on my clothes because it's a little sweeter of a smell on my skin. After an hour or so, I start to notice more of the almond scent, but that's it. I can't detect any other specific notes and I don't notice any other changes to how it smells for the rest of the time I wear it, which is about six hours. Also, I don't know how common this would be for someone else, but this perfume triggers dessert cravings for me. Maybe it affects me a little more because I'm on a strict diet, but other gourmand scents I've reviewed were worn at points during my diet as well and did not have that effect. Although the temptation aspect is unwanted, I like the fact that this fragrance smells good enough to make me hungry. I prefer this to Bee, from Ellis Brooklyn, but Bee has better longevity.
Moonlight in Heaven – I'll start off by saying the top notes are supposed to be grapefruit, pink pepper, and lemon, with middle notes of mango, coconut, and rice, plus main notes of Tonka Bean and Vetiver. The grapefruit is very apparent. I can only get a whiff of lemon if I overspray (which for me is four spritzes). After a few hours, the perfume smells less acidic, but still fruity overall, though I can't ever pick out specific notes. Even when I spray a lot in the beginning, this perfume doesn't last on me past five hours. I like it, but it's not a must-have.
In fact, after smelling all of these, I don't understand the hype for Kilian fragrances at all. I'm glad I bought the sampler (at $24 during a sale) to find out five of these aren't my cup of tea over spending double that amount for one travel size scent and wonder if I just chose the wrong one for me.
Eilish Eau de Parfum by Billie Eilish (Travel Spray)
I like some Billie Eilish songs, but I don't have any opinions about the artist personally. The reason I wanted this perfume was due to those gourmand notes listed. The top notes are mandarin, sugared petals, and berries. The middle notes are listed as vanilla, cacao, spice, and rose. The base notes are amber, wood, tonka bean, and musk.
Whenever I wear this, I smell absolutely zero fruits. I instantly get cacao, creaminess from the vanilla, and a hint of spice. Essentially, I smell exactly like a bowl of milky Cocoa Puffs Cereal.
After about three hours the creamy sweet scent fades, but the perfume remains smelling like cocoa with spice. I can smell this on myself for a decent amount of time, but around five to six hours I can only smell it if I put my nose right up to my skin. The cocoa smell fades significantly at six hours and even though I can still smell something on me for a few more hours after that, all the pleasantness from it is gone. It just smells like generic cheap perfume at six hours.
I like that I get the cocoa smell for longer than I expected, but I'm not a fan of how it finishes, and re-spraying myself has never been part of my routine. Knowing what I know now, I would have skipped getting this perfume. Since it's already in my possession, I considered still using it for quick outings. However, a cocoa puffs cereal smell is a fun quirky thing I would have loved in my teen years, up to perhaps 21. From 22 and onward, I still wasn't going for very sophisticated smells, but I wanted something "sexy." I want to smell sweet and delicious, but also mysterious. I wanted there to be some unusual note as well to give it a little more nuance. Now, I don't care as much for the niche scents, but I still want that sweetness and in an elevated grown up way. I never subscribed to the idea that a perfume could be too young or too old for someone, but in this case, I do feel like it's a bit young for me. So, I'm likely going to put it up on Mercari at some point, or see if my friend who is a Billie Eilish fan wants it. However, I don't think this scent profile is really her vibe either. She's more of a sweet but floral type.
That is everything I've got for today! I don't think I'll do another perfume review ever again though, unless it's a fragrance I already know and love. Forcing myself to give some a chance that I really didn't like, and testing most of those unpleasant ones multiple times was a downside to the review process that I'm not ready to repeat again anytime soon. If this was helpful in any way, or at least entertaining to somebody, then at least it will have been worth it. Thank you for reading!
-Lili ❤